Tuesday, late afternoon: Leaving the Avalanche Creek area, where I had enjoyed a hike to Avalanche Lake as well as a walk around the Trail of the Cedars, I resumed driving east on Going-to-the-Sun Road.
5:02 p.m.: I passed Triple Arches, a three-span, 65′ long bridge:
I soon arrived at Logan Pass, where the rainstorm had left cooler temperatures, wind and clouds.
5:18 p.m.: Climbing the stairs past the Visitor's Center, I found the trailhead to the Hidden Lake. I had planned a 6-mile hike to Hidden Lake, which would take me up 500′ over the course of 1.5 miles to Hidden Lake Overlook, and then drop me 800′ over the course of the next 1.5 miles down to Hidden Lake. The return to the parking lot would be on the same trail. However, a sign was posted at the trailhead that the trail was only open as far as Hidden Lake Overlook. Because of bear danger at the lake, the trail was closed from the Hidden Lake Overlook down to Hidden Lake itself. Someone said that a grizzly bear with cubs had been sighted at the lake.
The Moon guide had indicated that the rangers supervised the trails and would close a trail if they considered it to be dangerous, and apparently that was true. I was lucky that none of my earlier planned hikes had been disrupted by bear danger. I decided that a three-mile hike would be better than nothing, and began my climb.
The Logan Pass area provides nice views to the South of Reynolds Mountain (right) and Heavy Runner Mountain (left).
5:33 p.m.: A man with binoculars alerted me to mountain goats on a distant ridge. They were about 1/2 mile away, so even with my 200mm lens, I could barely make them out:
A detail of the previous photo: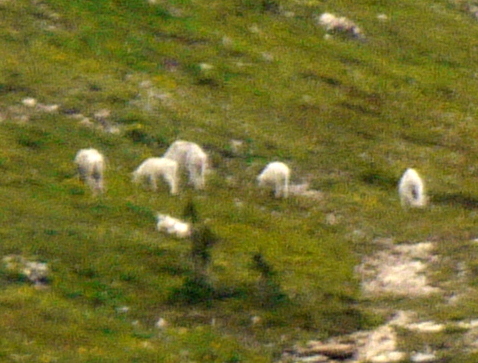 5:36 p.m.: Much closer, an adorable marmot devours wildflowers about 15′ from the trail:
5:38 p.m.: About 3/4 of a mile or a mile of the trail consisted of boardwalk. I do not know exactly why the Park Service decided to install the boardwalk: it included dozens of steps, so unlike the flat boardwalk of the Trail of the Cedars it was not suitable for wheelchair users or for strollers.
Clouds of mist blew around the mountains:
The boardwalk was solidly constructed:
The boardwalk ended and I continued on a dirt path.
6:03 p.m.: I made it to Hidden Lake overlook, and was rewarded with a pretty view of Hidden Lake and 8684′ Bearhat Mountain:
A rope was stretched across the trail at the Overlook, reminding hikers that the trail was closed down to the lake:
As the crow flies, it's only about two miles from Hidden Lake to Avalanche Hike, where I'd been earlier in the day. But Avalanche Lake is in a basin 2500′ below Hidden Lake, with steep walls surrounding Avalanche Lake (other than to the northwest, which is the direction taken by Avalanche Lake Trail), and no trails connect the two lakes. Hiking cross-country (i.e., off-trail) between the two lakes may be possible for skilled and well-equipped explorers, but at least two untrained and ill-equipped men had died attempting to cross those two miles in the preceding four years, one in 2008 and one just three weeks before my trip. Thus, while the National Park Service works hard to provide trails that are relatively safe, the off-trail areas of the park can be deadly. Unless people have the knowledge, training and equipment to go off-trail in a place like Glacier, they shouldn't do so.
6:25 p.m.: After enjoying the view for a few minutes at the Overlook, I began heading back to Logan Pass. This panorama shows the upper part of the trail, the dirt path, and also shows Heavy Runner Mountain to the south:
A ground squirrel poses for a photo:
6:31 p.m.: Another view of the wooden boardwalk with its many steps:
6:44 p.m.: On ascending the boardwalk, I don't think I noticed that it had been constructed around a large rock, but I spotted it on the way down.
6:55 p.m.: Another ground squirrel posed a few feet from the trail:
6:57 p.m.: I returned to the trailhead, having completed the 3 mile round-trip hike. As the map shows, the trail crosses the Continental Divide a few times, and I imagine that the Overlook is right on the Divide, between Reynolds Mountain and Clements Mountain.
And that was the end of my hiking adventures in Glacier National Park, which added up to, approximately:
Thursday: Apgar Lookout Trail, 6.8 miles, 1650′ gain, 1650′ loss
Friday: Highline Trail/Loop Trail, 11.6 miles, 900′ gain, 2000′ loss
Sunday: Iceberg Lake Trail, 9.8 miles, 1200′ gain, 1200′ loss
Monday: Grinnell Glacier Trail, 8 miles, 1200′ gain, 1200′ loss
Tuesday: Avalanche Lake Trail, 5 miles, 500′ gain, 500′ loss
………………Trail of the Cedars, 0.7 miles, flat
………………Hidden Lake, 3 miles, 500′ gain, 500′ loss
TOTAL: 44.9 miles, 5950′ gain, 7050′ loss
Not a bad amount of hiking for a week's vacation!
7:03 p.m.: Back at Logan Pass, I was walking to my car when I noticed a bighorn sheep across Going-to-the-Sun Road from the Logan Pass parking lot. At first, he was 100 yards away, and I began taking photos of him. Other people spotted me and/or the sheep and joined me, as he walked down the hill toward the road, drawing to within 25 yards of us. (He actually then crossed the road, getting so close to us that he made me a bit nervous, while other photographers moved to get even closer to him, which spooked him so that he crossed back to the far side of the road.) Of the many shots I took of him, I would say these four are the best, when he was about 25 yards away:
I had noticed ravens landing on people's cars and photographed one. In fact, when I returned to my rental, I discovered some raven poop and also what looked like an apricot pit on the top of the car. I tossed my backpack in the trunk of my car, and left the trunk open for a few minutes when I noticed two ravens standing on the open trunk of the car and peering inside. I shut the trunk before they hopped inside and began tearing apart my backpack (which probably had a Clif bar inside). They definitely were not at all shy of people. I guess in big cities we have pigeons, and in Montana they have ravens.
7:44 p.m.: Driving back West to Apgar Village, I made two stops along Going-to-the-Sun Road. The first was at an overlook of 8987′ Heaven's Peak:
7:50 p.m.: My second stop was at the 192′ long West Side Tunnel (there is also a 408′ long East Side Tunnel). There was a pullout with room for one or two cars, so I parked there and walked to the tunnel, being sure there were no cars coming:
Inside the tunnel, a narrow sidewalk is provided:
There are two large windows that provide light, as well as views of Heaven's Peak and McDonald Creek Valley. This is a view from the platform outside one of the windows, looking back toward the tunnel:
Lighting conditions were bad, but this is a view from the West Side Tunnel of McDonald Creek Valley. Heaven's Peak is at right:
I returned to Apgar Campground for my last night. After my shower, I put a few items on a clothesline to dry, but during the night I heard a bit of rain hitting my tent and removed the items from the line. At least my tent was nice and dry.
Wednesday: I packed up my tent, knowing that since it was damp, I would have to set it up when I got home to let it dry.
10:04 a.m.: My flight was not until 1:00 p.m., so I had still had a bit of time left. I drove northeast on Going-to-the-Sun Road one last time, about 11 miles, passing the long shoreline of Lake McDonald. I stopped at the McDonald Creek Overlook, where I took a number of slow-shutter photographs with bracketed exposure compensation, which I later fused into an HDR image:
A normal photograph of McDonald Creek:
Reluctantly leaving the park, I drove west toward the Thrifty rental location.
10:57 a.m.: I stopped in Columbia Falls, where I took photographs of the murals I had seen across from the supermarket on my first day in Montana:
The murals, painted by Clark Heyler, represent historic moments from the area.
It sounds as though there are a number of such murals in the town, but I only saw the ones on that building.
I then gassed up the car and returned it to Thrifty, where the same lady who had checked me out welcomed me back, and gave me a lift to the airport. At the airport, I saw Ed Lee, our hiking partner from the Iceberg Lake Trail, and spoke with him until it was time to board.
Boarding the airplane, I was seated next to a man who was wearing a University of South Carolina hat, and he noted my Auburn hat and said that it appeared that they were seating all the southerners together. His name was Beau, and his wife was kind enough to allow him to take a backpacking vacation each year with male friends. He had spent a number of days in the back country at Glacier.
The rest of my flight to Chicago was uneventful, as was my flight to LaGuardia, which amazingly got in at time, without the long delays to which I am accustomed. My trip to Glacier was fantastic, and I would wholeheartedly recommend it to others.