Saturday: This was my Sabbath, from about 8:30 p.m. on Friday to about 9:30 p.m. on Saturday, so Julie knew that she was on her own as far as traveling and sightseeing.
Julie decided to wake early and travel to explore the Many Glacier area on the east side of the park, even though we were planning to go there together on Sunday to hike to Iceberg Lake. She left camp by around 6:30 a.m.
With nowhere to go, I slept and/or rested until later, finally got up, said my prayers, limped around Loop A of the campground a couple of times while wearing sandals instead of boots, ate lunch, limped the short distance to the Lake McDonald boat ramp, rested a bit, and read some of a book that I had purchased on Thursday afternoon at the visitor's center in Apgar Village. (Julie had recommended Stephen E. Ambrose's Undaunted Courage, the story of Meriwether Lewis and the Lewis & Clark Expedition, and I'm slowly making my way through it.) Julie returned around 7:00 p.m. and reported on her adventures in the east part of the park.
From Many Glacier Hotel, she had ridden a boat across Swiftcurrent Lake, walked 1/4 mile across a little strip of land to Lake Josephine, and then caught another boat to take her across that lake. From there, she walked about 0.8 miles across relatively flat terrain to Grinnell Lake. Attorneys seem to gravitate together, and on the boat ride she had found one traveling alone: Ed Lee, an Intellectual Property professor from Chicago. She invited Ed to join us for our planned Sunday hike.
Sunday: When planning the vacation and listing the hikes we had been interested in, I had hoped to get a good view of a glacier. One option had been an optional detour from the Highline Trail (our previous hike) to an overlook of Grinnell Glacier. But the Highline Trail was a long hike to start with, and as we had approached the turnoff to the overlook, neither Julie nor I had especially been interested in adding the extra distance or elevation. [Also, I had to be back at camp before the Sabbath started, which was another reason not to add the detour to the overlook.]
Another option to see a glacier had been to hike to Grinnell Glacier from the east side of the park, as it was accessible from Many Glacier hotel and/or the boat shuttle that Julie had taken on Saturday. However, Julie had wanted to hike to Iceberg Lake in the Many Glacier area, and I agreed we would do that on Sunday. I decided that I didn't have to see a glacier up-close.
We woke early and drove east. Instead of taking Going-to-the-Sun Road, we took U.S. Route 2, which passed south of the park. While it was a longer route, the speed limit was higher. Upon reaching the east side of the park, we turned north onto slow, winding Montana Highway 49.
8:30 a.m.: This was one pullout on Highway 49, looking west toward Lower Two Medicine Lake and a range of mountains in the park, including Mount Henry, Appistoki Peak, and Medicine Mountain:
Highway 49 only ran 12 miles, and then we took U.S. Route 89 north to Many Glacier Road, where we turned west and entered the park. Whether taking Going-to-the-Sun Road across the park, or Route 2 to skirt around the park's southern border, the trip from Apgar to Many Glacier is about 2-1/4 hours.
We met Ed at Swiftcurrent Motor Inn, where he was staying, and walked from the parking lot to the trailhead.
10:12 a.m.: Like the Apgar Lookout Trail, this was another hike that would enter and return on the same path. In fact, the Highline Trail/Loop Trail was the only hike I did in Glacier that didn't involve hiking in and out on the same trail.
The hike to Iceberg Lake begins on the Ptarmigan Trail, and then upon reaching Ptarmigan Falls, follows the Iceberg Lake Trail the rest of the way.
10:35 a.m.: Here we are on the Ptarmigan Trail, with 9321′ Mt. Wilbur visible behind the ridge on the left:
11:01 a.m.: The Ptarmigan Trail included a forested area of pine and fir:
11:08 a.m.: Here, the trail followed a U-bend around a valley. The path may be visible both on the left and the right of the photo.
11:15 a.m.: After 2.6 miles, we passed Ptarmigan Falls and turned left onto the Iceberg Lake trail.
11:34 a.m.: Iceberg Peak came into view. Iceberg Lake is nestled into that bowl, below the ridge and therefore not visible in this photo:
11:42 a.m.: The path took us by many colorful wildflowers:
11:43 a.m.: Colorful rock strata:
11:48 a.m.: Iceberg Peak is getting closer, though we still can't quite see Iceberg Lake:
11:58 a.m.: I can't figure out what this mountain is:
12:01 p.m.: A plank bridge let us cross an outlet creek of Iceberg Lake:
12:03 p.m.: We passed a tiny turquoise pond:
12:09 p.m.: After 4.9 miles from the trailhead, and a gain of 1200′ elevation, we reached Iceberg Lake, really making excellent time:
The lake is only a little more than 1/2 mile long, so it's not huge.
I had also envisioned massive icebergs with peaks projecting far above the surface, and the reality was much more modest. Still, it was a fun spot to visit.
We asked Ed to take our photo in front of the lake. Wow, Julie is almost as tall as I am:
Oh, wait a minute . . .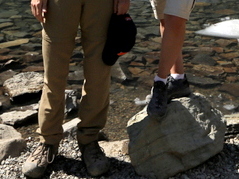 . . . nevermind.
We ate lunch at Iceberg Lake, where the water temperature was 38 degrees. One hiker stripped down to his shorts and first waded into the water and then jumped in. It was enough for me to dangle my fingers in it for a few seconds.
12:55 p.m.: We began returning via the same trail. This is another view of the turquoise pond beside Iceberg Lake. The pond isn't named on my map.
1:21 p.m.: More scenery from the trail:
1:31 p.m.: Upon passing a tree with a hole through its center, I decided to get creative. This is a photo in which the foreground (tree) is focused, while the background (Julie) is out of focus:
A detail of the previous photo:
And a different shot, in which I shifted the focus to Julie, though the tree is also more or less in focus:
1:40 p.m.: This is Ptarmigan Falls
2:04 p.m.: A view from the Ptarmigan Trail:
2:33 p.m.: We returned to the trailhead, having completed the 9.8 mile hike. Ed claimed not to hike very much, but he led us out and both Julie and I thought that he had been moving at a very fast pace. Covering 4.9 miles in a little more than an hour and a half is very impressive (though that was going downhill).
I had put some moleskin on my blistered foot before beginning the hike, and that helped a lot.
We walked back to Swiftcurrent Motor Inn, where Julie and Ed bought something to drink, while I opted for ice cream. Ed wasn't planning to do other hikes, and we bid farewell, though I had learned that he was going to be on my flight from Kalispell to Chicago on Wednesday.
3:32 p.m.: Julie and I drove east on Many Glacier Road, encountering a "bear jam," a group of cars stopped with people standing around and pointing cameras and binoculars up the adjacent ridge. We had seen such a gathering on our way to meet Ed in the morning, but not wanting to be late, I hadn't stopped then.
We learned there was a momma grizzly and two cubs on the ridge, about 300 yards away, and I put my telephoto lens to work. Even with the telephoto, the bears were small specks, so these images are crops of the original photos:
As we continued driving out of the park on Many Glacier Road, we drove by Lake Sherburne, a reservoir formed in 1921 following the construction of Lake Sherburne Dam, which that controls the flow of Swiftcurrent Creek.
3:52 p.m.: Passing the dam at the east side of the reservoir, the road then continued toward the east for a while, paralleling Swiftcurrent Creek:
Returning to Route 89, we drove south to Saint Mary, and drove up Going-to-the-Sun Road.
4:31 p.m.: We stopped at Sun Point to appreciate Saint Mary Lake, which is the second largest lake in the park. The lake is almost as long as Lake McDonald in the west of the park, but is narrower and not as deep.
St. Mary Lake includes a tiny island, Wild Goose Island:
4:46 p.m.: Returning to Going-to-the-Sun Road, we also stopped at the Jackson Glacier Lookout, where I photographed Blackfoot Glacier and Jackson Glacier. At one point, they had been a single large glacier.
We continued driving west, over Logan Pass, and stopped at Avalanche Creek. I had mentioned to Julie that I thought we should hike the Trail of the Cedars, and she moaned that she was tired after the 9.8-mile Iceberg Lake hike. But I reminded her that she was tough and that this might be our only opportunity to be at this park. The Moon guide described this as a boardwalk through a rain forest. I wasn't sure what to expect from a rain forest, but thought that there would be a cloud hanging overhead, and rain, and colorful parrots flitting about, and snakes hanging from the trees. Of course, it wasn't like that at all.
5:39 p.m.: We parked right beside the trail, where a sign indicated the Trail of the Cedars was to the left, where we saw a boardwalk, and that the Avalanche Lake Trail was to the right, where we saw asphalt. We followed the boardwalk to the left.
I pose in front of a dead tree:
After about 100 yards, we came to the Going-to-the-Sun Road. We were confused, as it appeared that the Trail of the Cedars was only 100 yards, and we returned to the car and the campground. Reviewing the Moon guide, I saw that the Trail of the Cedars formed a 0.7 mile loop, but apparently to complete the loop one had to walk down part of the asphalt trail that marked the way to the Avalanche Lake Trail.
Julie remembered that I had originally been interested in hiking to Grinnell Glacier, and she said that she had heard good things about it, and that the long car ride between Apgar and Many Glacier didn't bother her that much. Thus, if I wanted to return to Many Glacier on Tuesday, she was up for it. I was quick to agree!